Even if you live in a quaint suburban area, it's difficult to escape the hustle and bustle of life, and it's even more difficult to make time for a break. Sometimes all you need is a slower pace, whether that means walking to the store, rather than taking your car, or deciding to drive your car on a road trip instead of flying on a plane. Needless to say, the former is way more fun.
At Volvo of Fort Washington, we believe road tripping is a great way to travel, especially when you have a safe, reliable, multi-featured vehicle to take you through your journey. We carry a variety of Volvo certified pre-owned vehicles, as well as a selection of new inventory that includes the 2019 Volvo XC90.
This infographic will take you through all the exciting features of the new 2019 Volvo XC90, and then you can continue reading below as we discuss exactly what qualifies this vehicle as the perfect road trip ride: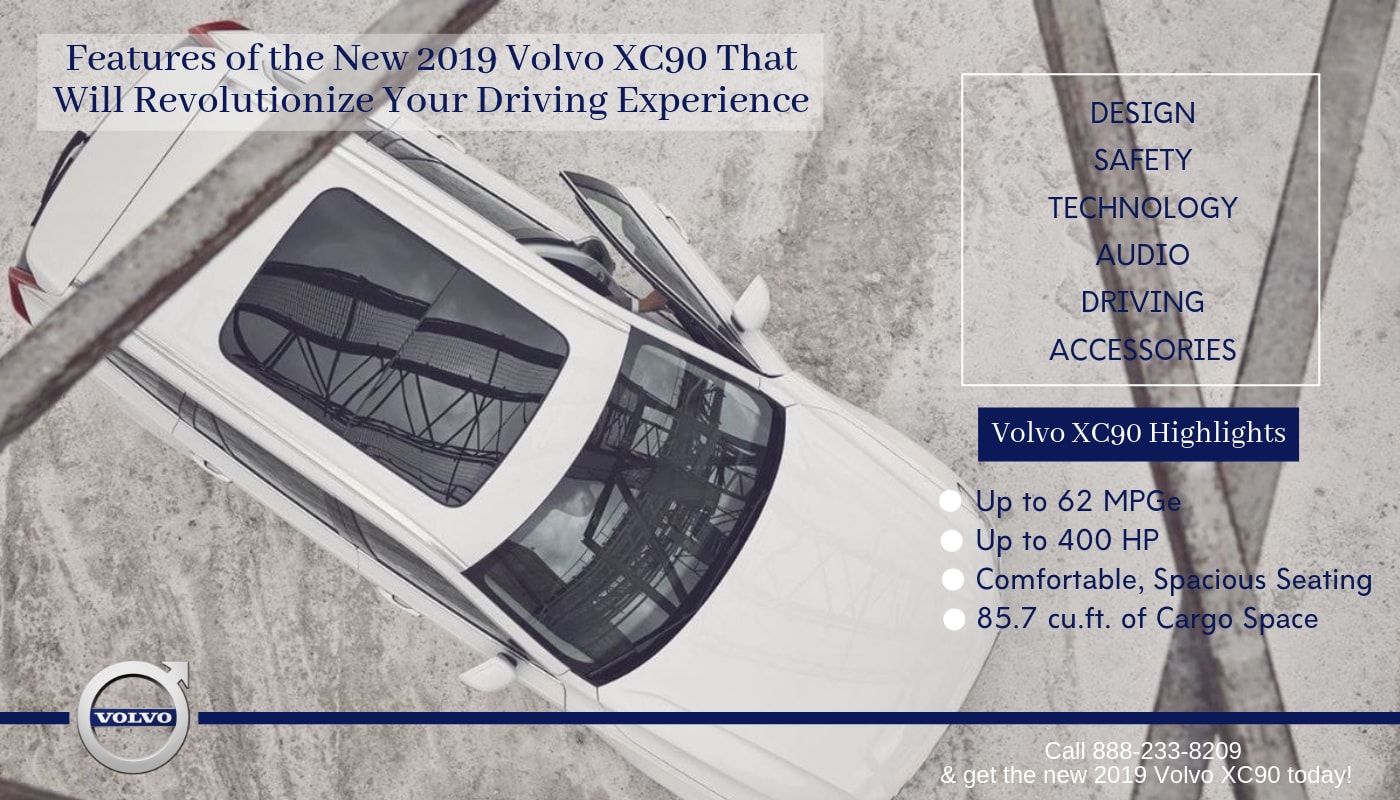 Safety & Reliability — No matter who's accompanying you on this road trip, whether it's your family or friends, or both, safety should be a top priority. The Volvo XC90 was designed with modern features that ensure safety, some of which include an automatic braking system, as well as radar and camera technology to identify potential hazards.
Spacious Seating — When road tripping, the last thing you want is for your passengers to feel confined and cramped up. With seven spacious seats, this luxury SUV is designed to provide maximum comfort.
Cargo Space — In addition to making sure your vehicle has enough space for your guests, another common concern is being able to accommodate their luggage. Lucky for you, space is no issue for the XC90. With the rear seats folded down, you'll have plenty of storage space for everyone's belongings. Each seat also folds individually, so you can configure the space however you need to.
Fuel Economy — You shouldn't have to restrict your travel plans to cater to the fuel economy of your car; although, when traveling longer distances, it isn't always feasible to frequently stop for gas. With the XC90, you'll experience more power for less fuel. This fuel-efficient SUV utilizes Drive-E engines to use less energy without compromising your driving experience.
Visit our Volvo repair center in Montgomery County and get your vehicle inspected before hitting the road. If you're looking to upgrade your vehicle, call 888-233-8209 to inquire about the latest 2019 Volvo XC90 and other models.