Vehicle Dynamics Control and Other Features of 2019 Subaru Forester Models
2019 is shaping up to be a good year to buy a Subaru Forester. With five new models rolling out this year, prospective buyers have their choice of features.
To help you start choosing the best 2019 Subaru Forester model for you, here's a guide from to show you the features they all have in common: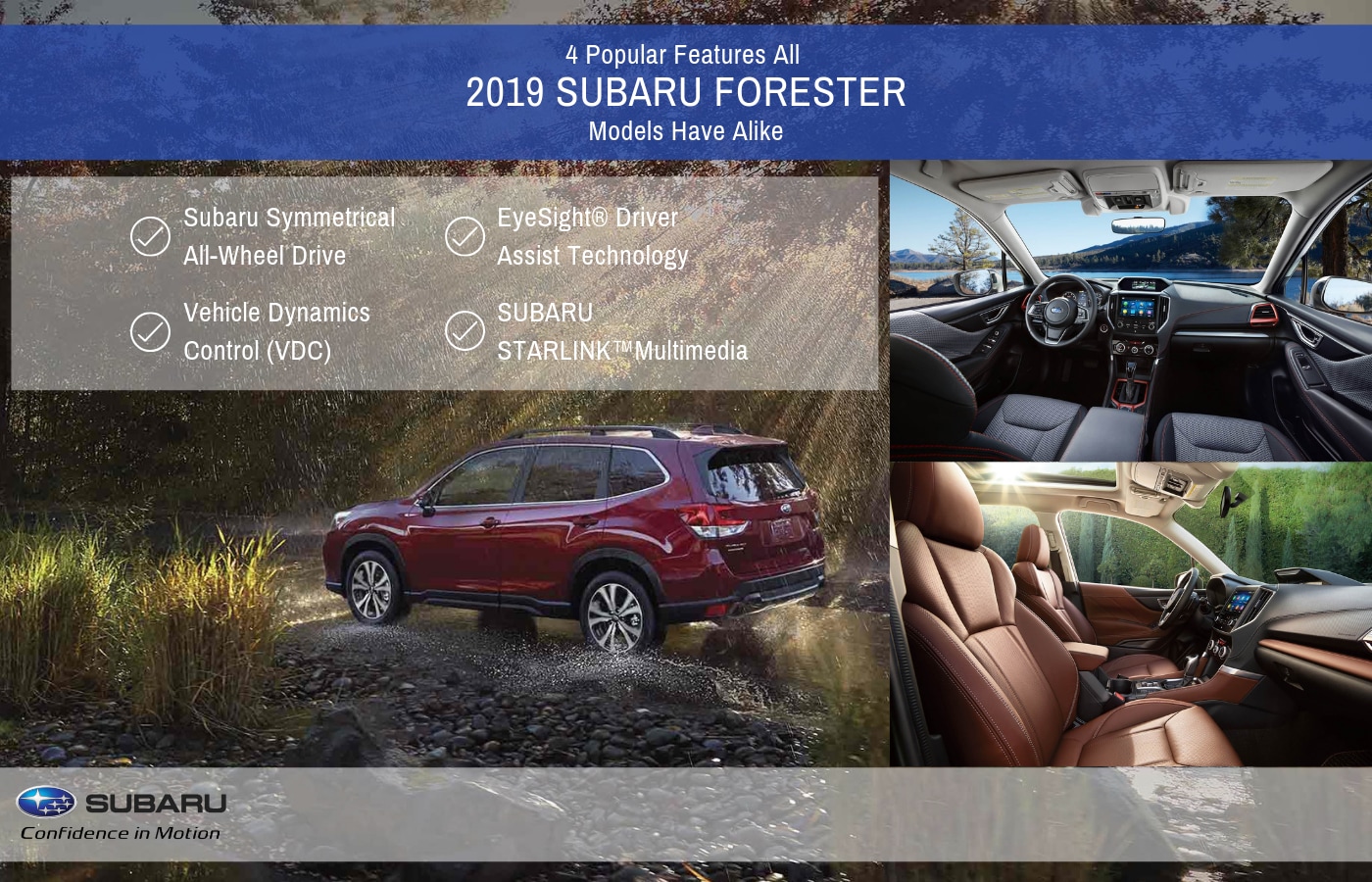 You may notice that one of these features is called the Vehicle Dynamics Control system. It sounds pretty nifty, but what exactly does it mean? Here's a simple explanation, consisting of excerpts taken straight from the owner's manual of a Subaru Forester:
"Activation of the Vehicle Dynamics Control system is an indication that the road being travelled on has a slippery surface."
"The Vehicle Dynamics Control system helps prevent unstable vehicle motion such as skidding using control of the brakes and engine power."
"In the event of wheelspin and/or skidding on a slippery road surface and/or during cornering and/or an evasive maneuver, the Vehicle Dynamics Control system adjusts the engine's output and the wheels' respective braking forces to help maintain traction and directional control."
In other words, the Vehicle Dynamics Control system helps make the Forester, Forester Premium, Forester Sport, Forester Limited, and Forester Touring some of the safest vehicles in their class. And along with other features like Symmetrical All-Wheel Drive, SUBARU STARLINK™ Multimedia, and EyeSight® Driver Assist (three other features of all five models), they're some of the most technologically advanced.
That's Good News.
And you know what else is good news? All of these vehicles are available at one of the best Subaru Dealers in PA: Piazza Subaru of Limerick.
No matter what model of Subaru Forester you select, you can get an unbeatable price right here, at Montgomery County's favorite Subaru dealership:
Forester — Starting at $24,295
Forester Premium — Starting at $26,695
Forester Sport — Starting at $28,795
Forester Limited — Starting at $30,795
Forester Touring — Starting at $34,295
Browse our Subaru Forester models online, and visit Piazza Subaru of Limerick to get your 2019 Subaru Forester.